The families on this page have at least one child who has been vegan their entire lives—including their mothers during pregnancy—providing evidence that a human can be healthy without animals products.
Ahaana and Aarish
Singapore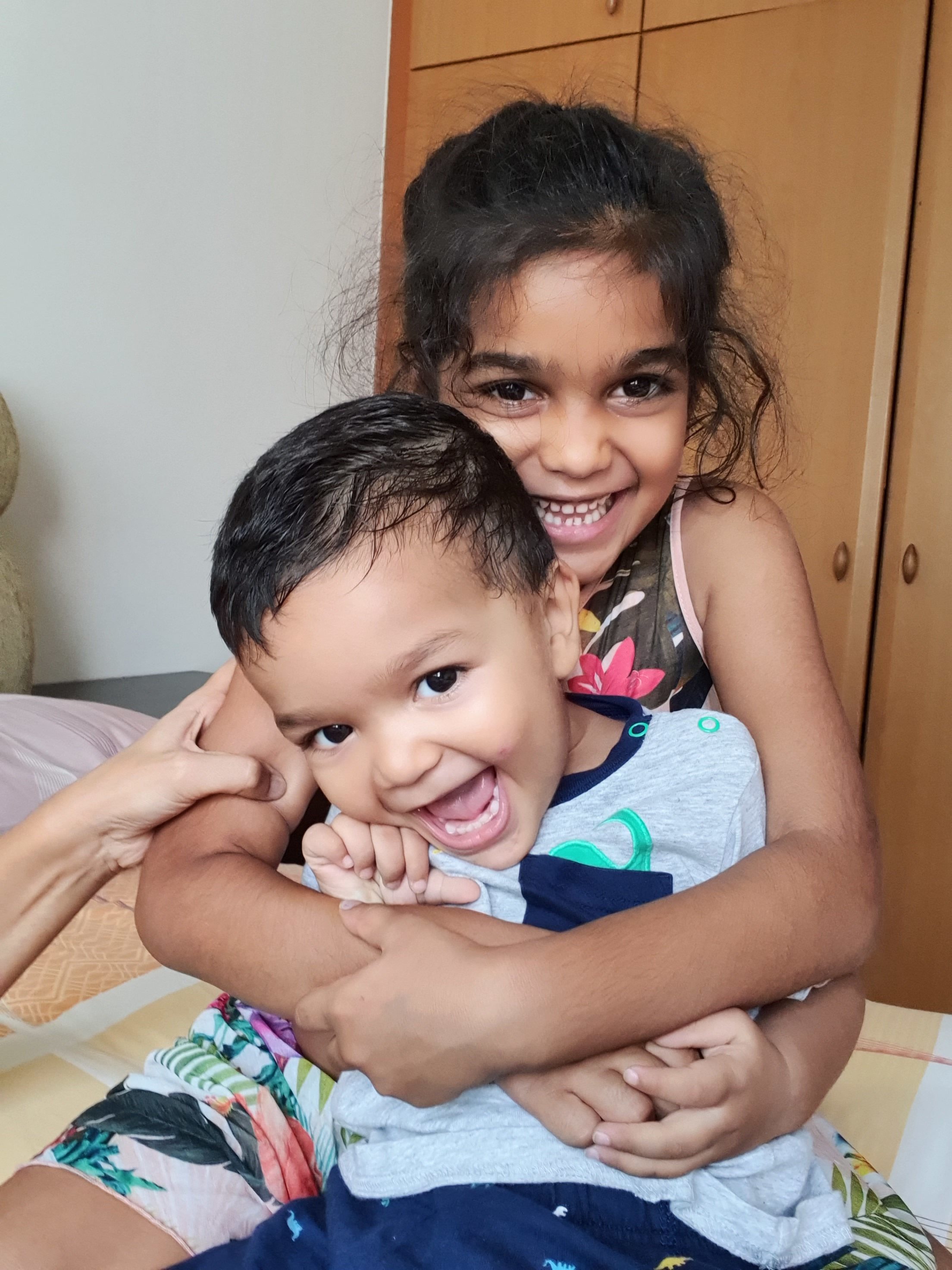 Ahaana, 7, was born a vegetarian in 2012 and turned vegan in 2016. Aarish, 19 months old, has been a vegan since birth.
Ahaana and Aarish are happy, active, healthy children. Ahaana plays basketball, does gymnastics, martial arts and swimming. Aarish loves music and is often found humming nursery rhymes.
Their current favorite snack is chocolate chip pancakes with maple syrup. On a daily basis, their meals are a mix of a leafy vegetable, non-leafy vegetable, whole grains, legumes, fruits, nuts and seeds.
Last updated July 2019
Tyler, Will, and Maya
Maryland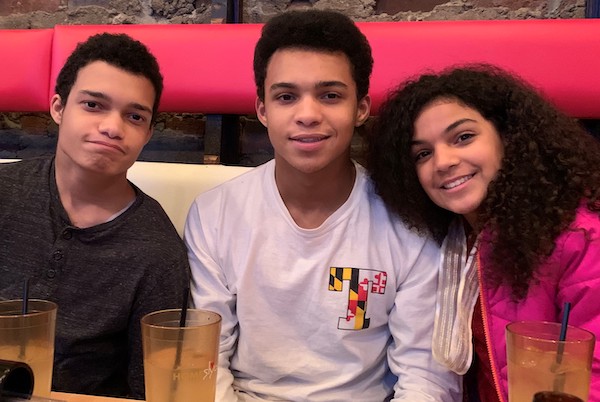 Pictured above from left to right, Will, Tyler, and Maya have been vegan since conception!
Tyler is 17 years old, plays varsity football at his high school, is beginning his college search and can't get enough of his favorite restaurant, NuVegan.
Will is almost 16 years old and enjoys playing video games, spending time with his friends, visiting animal sanctuaries and is a devoted fan of The Land of Kush's vegan mac n' cheese.
Maya is 11 years old, loves, singing, dancing, and theater and is a member of her school's running and drams club. She hopes to one day open her own animal sanctuary and never gets tired of eating vegan drummies!
All three kids are healthy, happy and thriving while living a vegan lifestyle.
And here's a very touching video about animals that Maya stars in!
Last updated February 2019
Vegania
Indonesia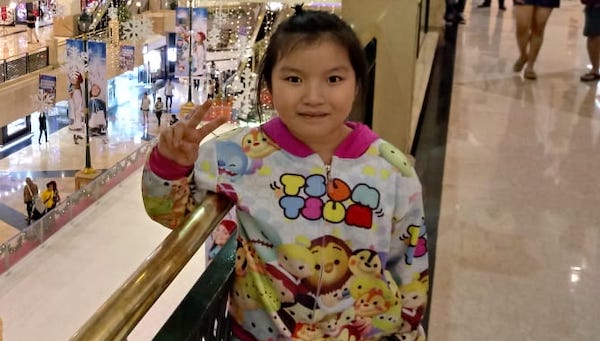 Vegania was born in 2010 and has developed as an above average child, both mentally and physically. Vegania's favorite protein source as a toddler was tempeh and tofu mashed and blended together with vegetables to make a porridge, and she still enjoys those foods. Vegania's teachers appreciate her and praise her for tidying the classroom and getting along well with adults and other children.
Last updated December 2018
Jude
Singapore
Last updated November 2018
Evan and Calvin
Sacramento, CA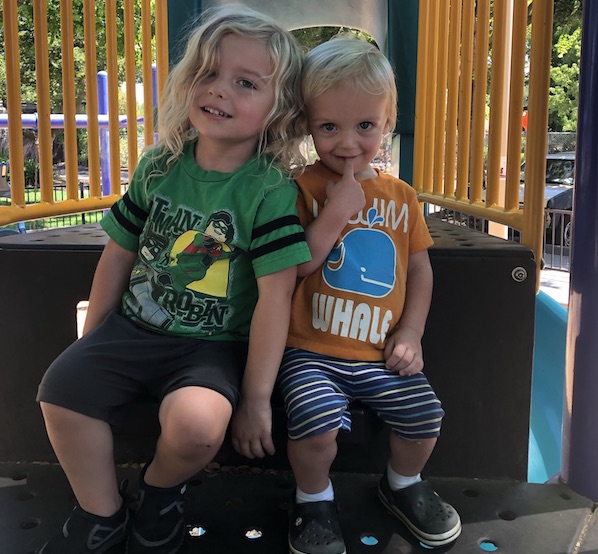 Evan, 5, and Calvin, 3, have been vegan since conception. Both brothers have hit all of their physical developmental milestones appropriate for their ages and are happy, healthy, rambunctious little boys.
The kids enjoy everything from running around the playground to playing with their monster trucks. Evan started reading and writing at age three and already reads at a third grade level. Calvin is just now learning to write.
They eat a wide range of foods, from typical veganized kid staples like mac and cheese to chicken nuggets as well as healthier fare like fresh fruit (strawberries are Evan's favorite) to steamed vegetables (something Calvin actually asks for and made up a song about!). Calvin eats pumpkin seeds like they're going out of style!
Evan started Transitional Kindergarten (also called pre-K or Early Kindergarten) in the fall of 2022. After only a couple times of his parents explaining veganism to him, Evan has become a staunch animal advocate. When other kids bring treats to school he will ask if it is vegan and if it's not, he declines it. He understands that non-vegan food harms animals, and he doesn't want to hurt animals. Now that the family has adopted their dog Mohawk, he loves animals even more!
Calvin knows to ask "Is this vegan?" before accepting food from others. The family hopes that they are helping others by being an example of how you can hold firm in your ethical beliefs while having fun, eating good food, and educating others about how animals are mistreated in this society, and that you don't need to participate just because it's been normalized.
Last updated January 2023
Eli and Lea
Santa Cruz, CA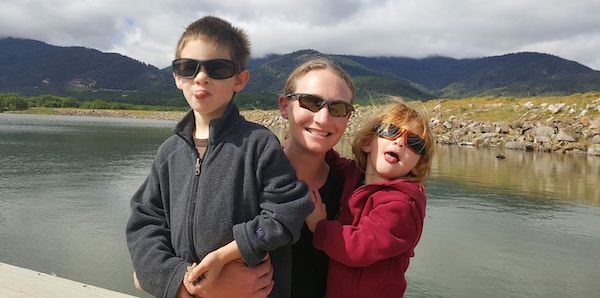 Eli, born in 2012, is energetic, goofy, and wants to know how everything works. He loves tofu scrambles, vegan sushi, and cantaloupe. He'll often be found in the garden munching on kale and green beans. He rides his bike with reckless abandon and loves hanging out with his neighborhood friends.
Lea, born in 2014, is always laughing, mischievous, and needs to do everything her own way. She loves grapes, peeling tangerines, vegan cheese, and anything with noodles in it. She loves animals and will often be found hugging her dog a bit too tightly. She takes stuffed animals wherever she goes and she loves pushing them in the swings at the park.
See Eli and Lea's mom, Wendy, talk about her family's veganism in this short video.
Last updated February 2018
Jay and Zobiana
Austin, TX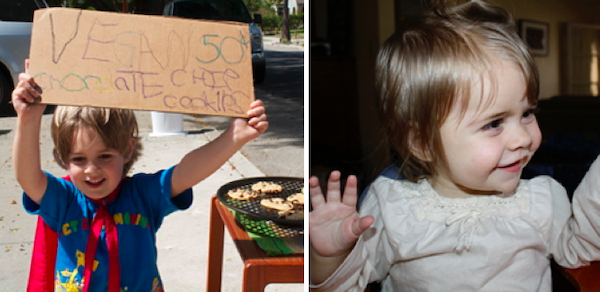 At five and a half Jay is still rockin' and rollin' on the vegan diet. His favorite foods are seitan, green beans, tofu, olives, potato chips, sweet potato fries, dinosaur kale salad, seaweed snacks, and anything chocolate! He was very proud of his idea to have his first cookie sale and the neighbors were impressed and requested the recipe!
Zobiana is 14 months and has been vegan since conception. She's been ill only a few times and is in the 90th percentile for height and weight. She's the happiest baby her mom's ever met and enjoys saying "hi" to everyone she passes. Although Zobiana's a little picky in the food department and would prefer to nurse, her favorite foods are toast, bananas, apricots, black beans, collard greens, and carrots. She has a natural affection towards animals and expresses it with great enthusiasm towards their two dogs.
Last updated February 2014
More Coming Soon!