Vegan for Life: 2nd Edition is available now!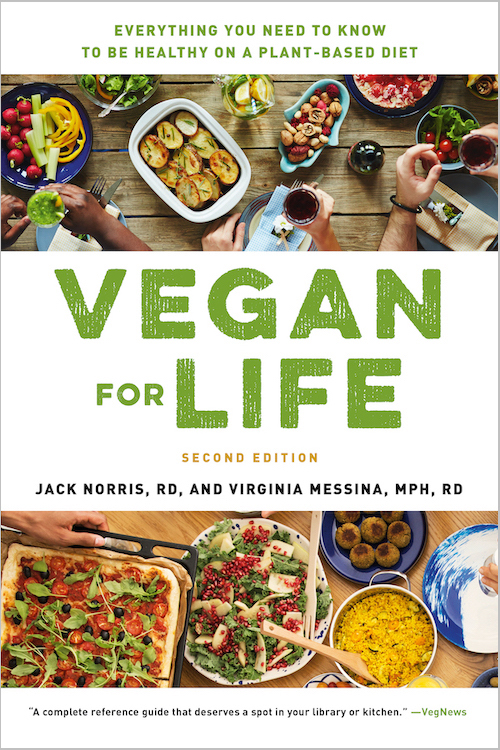 Co-authored by Vegan Health team members Jack Norris and Ginny Messina, the book has been updated and expanded. Vegan for Life offers specific tips for making food choices to meet needs, an easy-to-use food guide, and menus for all stages of the life cycle. It also provides science-based guidelines for eating to reverse heart disease, managing digestive disorders, and lowering the risk of chronic illness.
Vegan for Life is a practical handbook that addresses the compelling reasons for shifting away from animal food consumption along with guidelines for making the change at your own pace. It aims to give readers the tools and knowledge they need to make a vegan diet work for them for the long run, and is for both veteran vegans as well as anyone trying to take steps toward a more plant-based diet.
You can order a copy at Amazon and a percentage will help support Vegan Health.
Vegan for Life Contents
Introduction: Going Vegan for Life

1. Why Vegan?

2. Making the Transition

3. Understanding Vegan Nutrient Needs

4. Plant Protein

5. Eating for Healthy Bones: Calcium and Vitamin D

6. Vitamin B12

7. Fats: Making the Best Choices

8. Vitamins and Minerals: Maximizing Vegan Sources

9. Soyfoods in Vegan Diets

10. The Vegan for Life Food Guide

11. A Healthy Start: Vegan Diets in Pregnancy and Breastfeeding

12. Raising Vegan Children and Teens

13. Vegan Diets for People over Fifty

14. Sports Nutrition for Vegans

15. Plant Food Advantages: Reducing Chronic Disease with a Vegan Diet

16. Plant Foods and Digestive Health

17. A Compassionate Approach to Weight and Dieting

Afterword: Vegan for Life